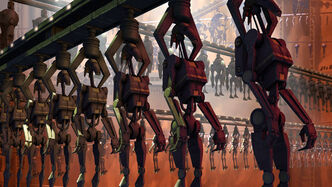 Rex
: Copy that! Send a team down there to neutralize the Factory!

Denal: Destroy the factory?! Seriously!? Surely you just-
Rex: YES, I am Serious! and don't call me Shirley.
There is a factory on Geonosis that is one of the Main supply of Separatist droid sources, we've been Spying on this factory for quite awhile a now is the time to strike it. We'll send a team of four specialized units to destroy the factory from the inside without alerting it, this team must be silent or all is lost.
Objectives
Edit
Infiltrate Factory via underground disposal area.
Make your way from the Halls to the core. (WARNING: The hall ways are extremely long)
Plant Republic Obliteration Bomb into the engineering room.
Quickly make your way out of the Factory.
Mission accomplished ladies and Gentle men.
(WARNING any guards who spotted the Forces will try to raise the alarm.)