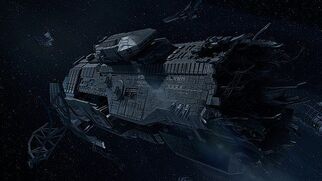 Denal
: Hey....isn't that the forward unto d-
Rex: NO! I mean.....of course not.
The Vessel known as StarShip Harbirder has been lost into Space and Attacked by Separatist and other unknown forces. A Group of Specialized Units must get inside, find any survivors or Enemy units. and Leave the vessel.
Objectives
Edit
 Enter Harbirder via four exhaust ports.
 Find the Bolted locked door.
Split up and Locate the Encription keys for the lock door.
Enter second half of the Ship and Locate Survivors or Unknown Hostiles.
Leave Ship via Escape Pods.